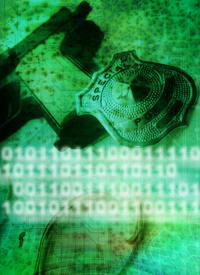 We've been gathering statistics and keeping track of crimes for years now. CompStat (short for COMPuter STATistics) is nothing new to our industry. Originating in New York during the mid-90's it was first called 'Charts of the Future' and was really simple -- it tracked crimes through pins stuck in maps. I'm amazed when I think about how far we've come since those days.
Now, predictive data analytics is an emerging practice that applies data science to discover and act upon patterns in databases. This application has recently come to national attention through algorithmic crime fighting in San Jose, CA and predictive policing in Memphis, TN. Agencies and auditors in Washington D.C. have also been quietly applying data analytics towards fraud detection and anti-terrorism. If you think this sounds like something out of the 2002 science fiction film 'Minority Report' you're not far off. Predictive data analytics definitely is leading edge stuff.
But how can the majority of today's law enforcement agencies simply use the data they've already got to make better decisions about where their workforce should be deployed in order to reduce crime? And secondly, how do they schedule those deployments in the most efficient, cost effective way? These questions can be answered using an emerging discipline called "Evidence-Based-Decision-Making".
Great - So What is Evidence Based Decisions Making?
Evidence-based-decision-making is simply the use of statistical data to help law enforcement leaders make operational decisions that are both 'actionable' and 'defendable'. It can be applied using this practical five-step approach:
Define the real information needs.
Collect the right data.
Turn data into information.
Present and communicate that information.
Turn that information into better decisions and actions.
When these 5-steps are combined with the right technology, agency commanders can easily move troops around to cover community needs while keeping costs as low as possible. For example, law enforcement agencies using Orion's AgencyWeb® IWM software are able to use the system's workforce data and collect relevant data from external systems in order to identify trends.
Executive dashboards are used as the means to communication this information in clear, real-time operational snap shots. Systems that use graphs and statistical reports are great, but if they don't provide leaders with a clear operational picture they just come across as numbers, lists and names. By using relevant dashboards, agency leaders are able to easily determine if the right persons, with the right qualification are being placed in the right locations and paid the right amounts for the time worked. That's the power of evidence-based-decision-making.
When combining this type of technology with the 5-step approach, commanders are able to drill deeper into real-time dashboard views that show which sections are consistently overstaffed and under-used; as well as the ones that always seem over-used and understaffed. Knowing these types of key indicators give them the knowledge to make defendable decisions for realigning deployments and thus saving unnecessary overtime costs.
They can also view critical activities versus cost-data in real-time from any perspective or organizational approach needed. With a clearer operational picture, areas such as minimum staffing, overtime usage and regulatory compliance can be addressed to aggressively drive down costs and improve field efficiencies.
My Point is Simple.
The majority of agencies already have the data within their own systems that can help them make smart decisions. When the right technology is combined with the evidence-based-decision-making 5-step approach, agencies have the right tools to easily make both actionable and defendable decisions. They are then able to effectively adapt to whatever situation may arise.