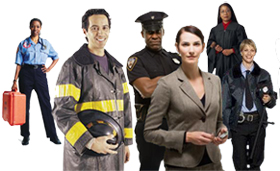 In the public safety arena, there are a myriad of different points of view on just about every subject. Managers differ in opinions regarding everything from 1 or 2 man vehicles, sedans vs. SUV's, 9mm vs. .40 cal and a thousand other items. Often times the different points of view are driven by political and command staff preferences. Having different points of view are fine. When focusing on common goals like upholding the law or knocking down fires, each city, county or community approaches serving the public in a way that best fits their own needs and resources.
A major difference in public safety's points of view about workforce management has been between law enforcement and fire agencies.
Traditionally, fire agencies have a position and/or station that require a body (s) that fills a need and allows them to operate the appropriate apparatus for response.
Law enforcement tends to come at this in the opposite direction. Police departments have bodies that they then try to figure out the most strategic place to assign based on any number of parameters.
In the corrections world, an agency's point of view can be impacted by mere hundreds of square feet requiring coverage or by who can or cannot have access to a specific facility.
In 2012 a new variable is part of this 'point of view' equation -- budgets and cost consolidation. We all know that there is a big push industry wide to cut costs and to combine services for better value. This requirement is hitting the software side of the public safety industry just as hard as the user world. Vendors traditionally have specialized in a single subject matter in an attempt to be the best provider in that world. We've long had police scheduling, fire scheduling, EMS scheduling and even some basic JMS scheduling systems. Likewise, the CAD and RMS vendor world has tried to beef up their internal offerings to accommodate the new needs which take them further from their core competency.
An agency's point of view is not limited to tactical decisions, dispatches or report taking.
How an agency manages its most valuable resource -- its personnel -- and runs the business side of its organization requires the ability to adapt to multiple points of view. The simple truth is that our industry has just limped by and not really addressed the overall need with a unified solution.
When Orion Communications brought 14 years of knowledge in running both law enforcement and fire agencies together into the single platform called AgencyWeb® IWM, the game truly changed. AgencyWeb® IWM is an Intelligent Workforce ManagementSM system. The key word is 'Intelligent' since the IWM system allows for multiple points of view in a single solution.
An agency that is work position, work group and/or PI number oriented can easily set up and manage all aspects of scheduling and staffing based on the criteria for skills, certifications and other needs for those positions. Just as easily, an agency that is personnel based and wants to put the appropriate number of people in the most strategic positions to address issues can do so by using analytics to evaluate real world usage and effectiveness.
Whether fire or law enforcement, ensuring that an agency has the ability to plan, execute and then assess the impact on both personnel and costs for all aspects of their staffing, scheduling, training and position management is critical at this point in public safety. Regardless of your point of view, knowing exactly what it cost to respond to an alarm call, make a DUI stop or operate an ALS unit for an entire shift in both real money and in human capital are key factors that decision makers must have access to in 2012 and beyond.