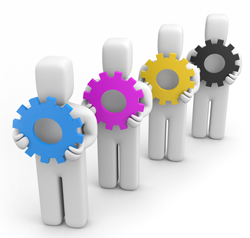 Wouldn't it be great if public safety agencies could use a national standard for determining scheduling deployments and staffing levels? Sure, some agencies consider the recommended 'personnel-per-1,000 populations' as a standard for staffing -- or even comparisons to other communities. But that's really oversimplified and not very cost-effective.
As a public safety software provider, we're seeing more and more agencies using data as their means of making the most efficient staffing decisions. This is one of the latest approaches in our industry's modern public safety management practices. It's a concept that is gaining momentum as a means of reducing costs and improving public safety services performance. When you take a closer look at the methodology, it simply makes sense.
Let's say your agency collects specific types of information most important to your scheduling deployments, such as CAD call volumes, call distribution, time-of-day and year, geographic location, types of crime --- data like this. Once you determine the type of information most relevant to collect and view it in a clear, concise way you're able to analyze the results. By looking at your historical data this way, you're better able to develop a plan for scheduling the right number of personnel, to the right shift, with the right skills.
The ICMA (International City/County Management Association) recommends using a "Workload Based Analysis" as the means of determining staffing and deployment levels. This data-based management method uses information extracted from agency CAD systems to measure service workloads charted by seasonal, weekday/weekend and time of day variables. It's an effective approach that leads to defendable staffing decisions. Rather than an oversimplified staffing ratio, it's more likely to help prevent the likelihood of a crime or to better address existing community issues.
But how can an agency actually get their arms around using this approach?
Glad you asked! You've got the data already in your own systems. You just need to present and communication this information to your commanders. This way they can move troops around to cover defined community needs while keeping costs as low as possible.
Orion's Intelligent Workforce ManagementSM system, AgencyWeb® IWM, is doing exactly that. By helping today's agencies combine relevant data collected from external systems with their own workforce information agencies are able to easily schedule the right staffing levels with qualified personnel. Executive dashboards are used as the means to communication this information in clear, real-time operational snap shots. By using relevant dashboards, agency leaders are able to easily determine if the right persons, with the right skills are being placed in the right locations and paid the right amounts for the time worked.
AgencyWeb® IWM can also associate services to costs in real-time from any perspective or organizational approach needed. With a clearer operational picture, areas such as minimum staffing, overtime usage and regulatory compliance can be addressed to drive down costs and improve field efficiencies. Now that's powerful.
Regardless of the tools you use to get your agency there, you've already got the data in your own systems. Why not use it to help determine your ideal scheduling deployments? You'll not only be in a better position to take the right action, but you'll also be better able to defend your decisions based on historical data. If you ask me that makes a whole lot of sense.