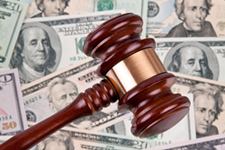 Have you ever thought about the true cost of the adjudication process? For example, what does it cost for law enforcement officers to attend court? In some jurisdictions officers are paid overtime that's 4x their hourly rate to appear in court, regardless of whether or not they testify. What's the cost to agencies that serve civilian subpoenas, or to correctional facilities that have to safely transport incarcerated witnesses to and from the courthouse? And what's the cost to the courts when witnesses fail to appear for whatever reason and cases must be rescheduled for a later date?
As a public safety and judicial software provider, I'm quite familiar with all these types' costs. I've seen the inherent flaws in outdated subpoena management processes that still exist nationwide. Typically, they are incredibly manual and sequential in nature. The courts or DA's office issue subpoenas to law enforcement, but don't have timely confirmation when or even if their subpoenas were acknowledged as being received. On the law enforcement side, officers sometimes receive 'short' notices to appear the next day, or through gaps in manual processes sometimes don't receive their subpoenas at all. And agencies that serve civilians have the compounded problem of delivering subpoenas to witnesses with alias names or outdated addresses; or to witnesses they didn't realize were incarcerated.
The Common Denominator in Manual Subpoena Management is That It is Labor Intense and Costly.
Connecting the courts, law enforcement and correctional facilities together is the ultimate aspiration for cities and counties to help save time and money. But subpoena management and its associated costs mean difference things to these three groups. If you're a law enforcement witness it means attending court and putting a certain level of closure to an event that you were involved in. It also means overtime in most cases based on your union or agency rules. For the courts, a subpoena represents one of the tools used to solidify their case and impact the outcome. And for agencies responsible for civilian service, it represents getting the subpoena delivered as economically as possible with proof of timely receipt.
When a law enforcement witness shows up at court, the biggest waste of time and money is for them to not know that a case was postponed and they were not even needed. The agency has lost an officer for half a day and the city or county has been impacted by their absence in the streets. Those losses are acceptable if the officer's time is spent prosecuting someone who has broken the law.
Conversely, if a DA needs their expert law enforcement witness to help wrap up a case and that witness is on vacation or military duty when called, then all the money and time spent could easily be wasted. Worse, a guilty person could be set free. The answer is that law enforcement, corrections and the courts must have a handshake relationship to know who is needed for court, who is available or unavailable, and proof that they are aware of the event.
Electronic Subpoena Management is the Way to Reduce Costs and Unify Criminal Justice Practitioners.
Today all three groups are benefiting from the use of electronic subpoenas, rather than relying on antiquated manual processes. For example, Orion's AgencyWeb® CourtNotify electronic subpoena system is specifically designed to improve law enforcement court attendance, civilian subpoena service and law enforcement day-of-court tracking. Since its first 2003 deployment, AgencyWeb® CourtNotify's proven track record has reduced court attendance costs for agencies nationwide. It's been deployed as an independent subpoena system for law enforcement agencies, as well as a multi-jurisdictional subpoena solution that's integrated with CMS and JMS for the courts, corrections and county-wide law enforcement agencies.
As a web-based system AgencyWeb® CourtNotify transmits court notifications in real-time. Officers receive their notifications via web screens, telephony devices, email, text messaging. All acknowledgements of subpoena receipt are name, time and date stamped for law enforcement and civilian service deliveries. And court tracking tools capture law enforcement witnesses' court arrival and departure times, as well as case results for statistical reporting.
By using this type of technology as the means to integrate subpoena management processes with the business side of law enforcement, correctional and judicial agencies, the immediate effect of having the right people at the right location to complete the mission is achievable. Add to that better man power management and you've got better cost containment for all criminal justice practitioners. With this type of technology in place, we're in a much better position to actually know the cost of court attendance.