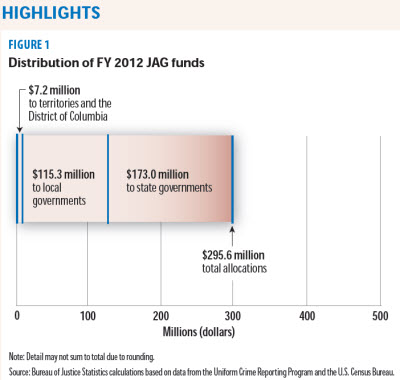 Looking for funding for that new initiative? Then you'll be interested in this latest report from the BJA (Bureau of Justice Assistance) which outlines the formulas used for allocating state and local JAG (Justice Assistance Grant) awards.
The JAG program provides funding for law enforcement and is the single most utilized grant for tools, technology and other critical resources for local police departments. It also provides funding to prosecution and courts, substance abuse prevention and education programs as well as corrections, drug treatment, planning evaluation and technology improvement programs, crime victim and witness programs.
According to the report, a total of $295,580,175 was available in 2012 through this grant program.
Published program highlights include:
The total 2012 allocation for JAG funding was approximately $295.6 million, of which $288.4 million went to states and $7.2 million to territories and the District of Columbia.
The five largest total state allocations included California ($32.9 million), Texas ($22.7 million), Florida ($19.5 million), New York ($16.0 million), and Illinois ($12.0 million).
A total of 1,606 local governments were eligible for awards, either directly or through a joint allocation with other governments within their county. The five local governments eligible to receive the largest awards included New York City ($4.1 million), Chicago ($2.9 million), Philadelphia ($1.9 million), Houston ($1.9 million), and Los Angeles ($1.8 million).
Three states had around 100 or more local governments eligible to receive award funds either directly or through a joint allocation: California (224), Florida (130), and Texas (98).
According to the report, once the fiscal year JAG allocation has been determined BJS begins its four-step award calculation process:
Computing an initial allocation for each state and territory, based on its share of violent crime and population (weighted equally).
Reviewing the initial allocation amount to determine if it is less than the minimum award amount defined in the JAG legislation (0.25% of the total). If this is the case, the state or territory is funded at the minimum level, and the funds required for this are deducted from the overall pool of funds. Each of the remaining states receives the minimum award plus an additional amount based on its share of violent crime and population.
Dividing each state's final amount at a rate of 60% for state governments and 40% for local governments.
Determining local award allocations, which are based on their proportion of the state's 3-year violent crime average. If a local award amount is less than $10,000, the funds are returned to the state. If it is $10,000 or more, then the local government is eligible to apply for an award.
Of the $288.4 million allocated to the 50 states, 40 percent of this amount ($115.3 million) was initially reserved for local governments. A total of 1,606 local governments had sufficient number of reported violent crimes to the FBI to be eligible for the awards. The remaining local governments (those without sufficient violent crime data) must work through their state JAG office (SAA) for funding under the balance of the JAG funding allocation of $20.4 million.
If you're interested in learning more about the JAG Grant program and the application process, go to http://www.bja.gov. You'll be glad you did!