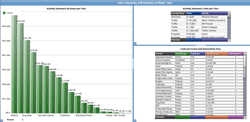 In today's economic climate, it's pretty safe to assume that public safety funding won't return to pre-recession levels anytime soon. Officials now take a very methodical approach to funding allocations and want to know the ROI of each dollar spent. As a result, agency leaders are being forced to change the way their services are measured in order to justify funding. As a part of the process, the use of historical data is critical in convincing officials about the consequences to communities if budgets are cut too severely.
We've seen it time and time again. Agencies that aren't able to make a financially viable argument about the levels of services provided have increased exposure to 'across-the-board' cuts. Sure, you can't expect dollars where there aren't enough funds. But what's the consequence of broad-brushed budget cuts? Using actionable data as the means to quantify the levels of risk as well as the required resources can help to justify budget allocations. By using data to provide a baseline of service level activities-to-costs and identifying the gaps, a positive dialog with funding officials becomes possible. It certainly takes the knee-jerk, budget-cutting factor out of the equation.
For example, by using actionable data agencies can create scenarios that quantify the impact of funding reductions. Using this approach officials would have a better understanding of the consequences … be it increased crime, slower response time or even increased overtime costs. By using the right type of data, turning it into information and presenting it in a way that's easily communicated you're able to more effectively make your point with both funding officials and the community as a whole.
What's the right type of data?
That really depends on what you're trying to justify. It could be data that comes from your RMS or CAD systems. It could be data that's taken from your HR, JMS or time and attendance systems. But regardless of the type of data, it's got to be associated with the respective costs of those activities. So now with this information in hand you'll go to budgeting meetings with quantifiable data about investments and the level of services that is able to be provided as a result. This is the power of using data to make your case.
Great ... so how can we begin using this approach?
First, keep in mind that you've already got the data in your own systems. You just need to be able to access and communicate it in an effective, concise way. For example, by using Orion's Intelligent Workforce Management system, AgencyWeb® IWM, you'll be able to combine relevant data collected from external systems with their own workforce information. Interactive dashboards and reports are used as the means to communication this information in clear, succinct snap shots.
You'll be able to present your service levels and their associated costs from any perspective or organizational approach in seconds rather than taking days to compile. What's more, your command staff will be able to use the same data to make more informed decisions on a daily basis.
I could go on and go, but I promise to keep it pithy.
Regardless of the tools you use, you've got valuable data in your own systems that can help justify your funding requirements. All you've got to do is use it. Oh ... and yes, Orion can certainly help you do that!