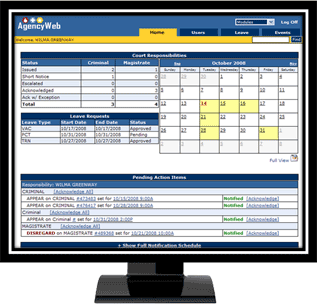 Save time and cost with electronic subpoena management.
AgencyWeb® CourtNotify is the only solution on the market specifically designed to improve law enforcement court attendance, civilian subpoena delivery service and the coordination of attendance with any type of court docket.
AgencyWeb® CourtNotify can be used as an independent Law Enforcement system or integrated with Judicial and JMS systems to provide a complete end-to-end solution for Courts, Prosecutors, Public Defenders, Corrections and Law Enforcement agencies.
As a web-based system, the entire subpoena process is automated in real-time. This includes electronic subpeona issuance, the acknowledgment of subpeona receipt by law enforcement witnesses and civilian delivery service.
AgencyWeb® CourtNotify delivers critical court data using easy screens designed for different levels of users. Comprehensive in nature and adapted to each agency's need, standard configuration settings with agency-defined business rules ensure agency identity without complexity. When AgencyWeb® CourtTracker is added to the CourtNotify solution, officer's day-of-court information is gathered, including arrival and departure times. .
Intelligent Workforce ManagementSM Software
"Katrina has shown how timely, accurate and shared information is critical to the operations of every criminal justice agency in New Orleans. Post-Katrina manpower shortages have made labor saving efficiencies like CourtNotify, even more important."
Dr. Heidi Unter,
New Orleans Police and
Justice Foundation