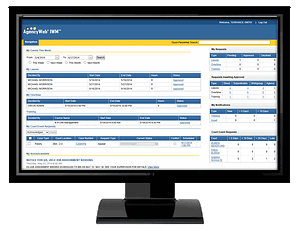 Intelligent Pubic Safety Workforce Management Software
AgencyWeb® IWM (Intelligent Workforce Management) is easy-to-use, web based software that provides operational management of public safety resources -- including personnel, equipment and staffing. It offers a wide range of applications that increases efficiencies ... from complex scheduling, to personnel and equipment management, to analytics and beyond.
The system is accessible 24/7/365 from anywhere with an Internet connection. Executives benefit using productivity screens that translate complex data into visual views of workforce activities. With its automation and auditing capabilities, time is saved by support staff and employee accountability is improved.

AgencyWeb® IWM's wide variety of capabilities make it an ideal solution for small to the largest of agencies. It can also serve as a multiple agency solution on a centralized platform, with each agency controlling their own policies, procedures and requirements.

| | | | | | | | |
| --- | --- | --- | --- | --- | --- | --- | --- |
| | Employee Activity Tracking | | | Intelligent Scheduling | | | Compliance Mgmt. |
| | Employee Data Mgmt. | | | Time and Attendance | | | Schedule Bidding |
| | Employee Self-Services | | | Roster Management | | | Vacation Bidding |
| | Training Compliance Mgmt. | | | Certification Mgmt. | | | Leave Management |
| | Overtime Management | | | Asset Management | | | Subpoena Management |
| | Employee Notifications | | | Alpha/Bravo Scheduling | | | |
Public Safety Workforce Management Software