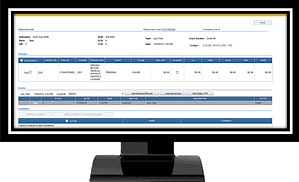 An Augmented Solution for Case Management Systems
AgencyWeb® CourtNotify OCS (Officer Court Scheduling) is a web-based solution designed to assist in the scheduling of court dockets coordinated with officer's schedules. It can be easily added to existing case management systems.
With AgencyWeb® CourtNotify OCS, the process of assigning court dates for cases involving law enforcement witnesses are streamlined and uncertainty minimized. Daily pre-trial docket listings of scheduled events are available for judges. The number of cases to be heard daily are coordinated based on maximum level settings. The system can also overbook if necessary, taking into account that some cases proceed more quickly than expected.
AgencyWeb® CourtNotify OCS not only makes scheduling easier for courthouse personnel, but also serves the needs of those testifying. For example, police officers who must appear in traffic court are able to do so according to a more consistent schedule. Since officers can write large volumes of tickets daily, it is important for an officer's legal appearances to be consolidated so they can get back to patrol.
AgencyWeb® CourtNotify OCS also supports Criminal case management for Magistrate Court processing. In this capacity, it ensures that scheduling rules are followed for pre-trial criminal cases. Managing court dockets in coordination with a defendant's speedy trial rights and the Prosecutor's case filing can be a juggling act for court clerks who don't have a computer solution at their fingertips. By coordinating the events necessary for court, the system provides the best case dates based on officers' existing court schedules and other conflicting events.
Intelligent Workforce ManagementSM Software