Dallas, TX (May 5, 2010) – Orion Communications, a provider of public safety software and services, today announced that Rusty Byers has joined the company's executive management team as Vice President of Sales. Mr. Byers will focus on driving the company's nationwide sales initiatives to align with increasing adoption of the AgencyWeb® Business Management Solution throughout public safety organizations.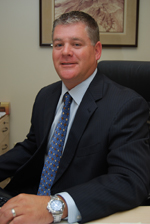 Mr. Byers brings more than 15 years of sales management experience in the public safety industry to the company, assuming full responsibility for all direct and indirect sales activities at Orion. Throughout his career, Mr. Byers has been directly responsible for over $34MM of software/service sales for more than 60 public safety agencies nationwide. He has extensive experience in building long-lasting customer relationships, as well as developing nationwide sales strategies for growth companies.
"Orion is well-positioned for accelerating growth, as their AgencyWeb system is increasingly being accepted, adopted, and demanded by agencies needing to save money and become more efficient," says Mr. Byers. "With many of the offerings in our industry becoming commoditized, having the opportunity to represent a truly unique product-set that has a directly profound impact on public safety proficiency, efficiency and expenditures is awesome. No one does what Orion's AgencyWeb can do and it will be my mission to deliver that message to the industry."
Mr. Byers most recently served as the Central Regional Sales Manager for public safety manufacturer TriTech Software Systems, where he was responsible for closing the company's largest sale of $15MM to multi-jurisdictional agencies throughout the Alamo region of Texas. Earlier, Mr. Byers acted as the Southeastern Sales Manager for public safety manufacturer VisionAIR and launched their first fully operational Western regional office. He later joined Positron Public Safety Systems, managing sales throughout 17 states, which included all SBC territories.
"Rusty is a results-driven sales professional who has a proven track record for developing sales strategies that are consistent with Orion's consultative sales philosophy," states Leslie DeLatte, President and CEO of Orion. "Orion's AgencyWeb solutions are experiencing widespread adoption in today's public safety organizations. Rusty's expertise is invaluable as adoption of our web-based offerings expands across geographic regions and functions within public safety."
In his role, Mr. Byers reports directly to Orion President and CEO, Leslie DeLatte.