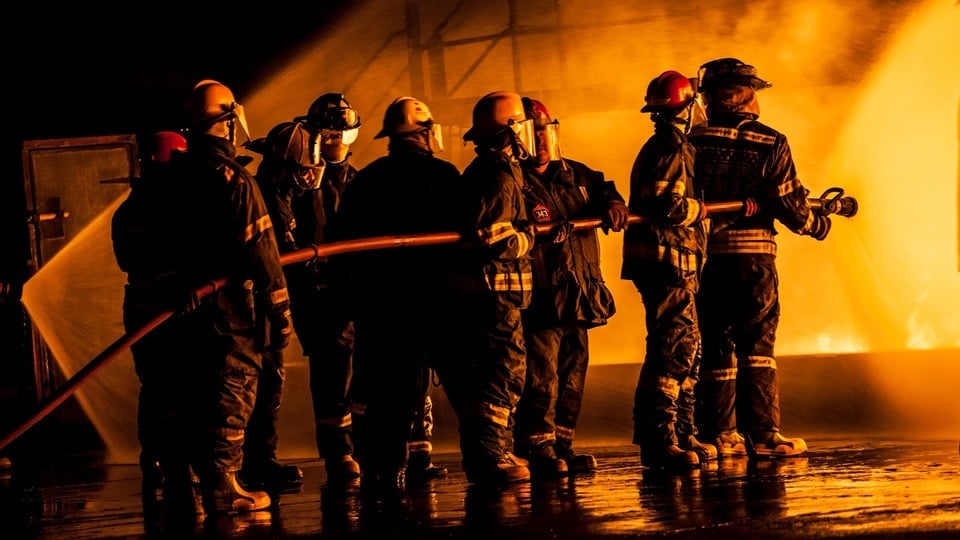 Although professional standards require at least 30 firefighters to battle the blaze that erupted in a 100-unit apartment building in Illinois, only five firefighters were available to respond. This is just one example of the impact of firefighter shortages that affect communities across the US. The fire service is a demanding and challenging profession that requires a high level of commitment and dedication. Fire departments must be proactive in their efforts to recruit and retain firefighters. We've gathered a few tips below from fire chiefs and IAFC for managing recruitment, retention, and volunteer firefighters.
Why Is Retention Becoming More Difficult for Fire Departments?
Firefighter shortages are a real concern today with staffing below 75% in some areas. Agencies that fight wildfires are scrambling to hire personnel, but they are dealing with low interest. In one state, low staffing forced the US Forest Services to leave 60 engines idle during the largest fire in the state's history.
Fire service recruitment is especially difficult because of the high demand for the skills applicants need for this work. Young adults today have more job options, including remote jobs that offer work-life balance and sometimes better pay. Rural communities rely on volunteer firefighters, but volunteers are getting older, and many are retiring. Training requirements are increasing, further diminishing the number of volunteers.
Effective Methods for Recruiting Firefighters
The approach to hiring firefighters must adapt to changing times. A one-size-fits-all recruitment style no longer works. Agencies need to develop a better understanding of the target audience. A new generation of firefighters is more tech-savvy and inclined toward technology jobs. They are demanding more flexibility and an improved work-life balance.
Identify and Target Recruitment Sources
Fire departments need to identify and target recruitment sources that will find the best pool of candidates. You can no longer just post on a government website and expect interested candidates to apply. Consider advertising in local newspapers, online job boards, and career fairs. Posting recruiting videos on social media sites that your audience uses can encourage applications. Understand whom you want to target and refine your strategy to attract candidates that fit the needs of the role.
Partner with Colleges and Universities
Partnering with colleges and universities is a great way to motivate younger people to consider a career as a firefighter. As students figure out their career paths, you can be there to promote the profession and attract top talent. You can let students speak to real firefighters and learn about the job.
Manage Retention and Reduce Turnover
Firefighters typically have a high level of job satisfaction. However, factors such as low salaries and a lack of work-life balance can contribute to turnover. To keep your career personnel happy, you need to focus on retention.
Competitive Salaries and Benefits
One of the reasons for the labor shortage is competing options that offer higher salaries. The first step is to be sure that your salaries are as competitive as possible. Then, consider offering benefits such as
Childcare support

Pay incentives based on performance metrics

Recognition of volunteer firefighters
Focusing on employment benefits beyond the salary can encourage strong candidates to apply by showing that you understand your employees and care about their needs.
Career Advancement
Providing opportunities for career advancement can also help you retain employees. Encourage your firefighters to stay by giving them access to advanced training to upgrade their skills and make management positions available to those who are interested. As firefighters age, they start looking for opportunities that better suit their lifestyles. By offering in-house career advancement, you can reduce turnover and retain more of your most experienced personnel.
Positive Work Environment
People are happier when their work environment values teamwork and mutual respect. Diversity and training can encourage a flexible and dynamic atmosphere that rejects bullying and honors the contributions of all team members. Prioritizing mental and physical health by minimizing fatigue and providing resources for support is also essential to a positive work environment.
Keys to Managing Volunteers
Volunteers have busy lives outside of fire fighting and risking their lives to rescue people in emergencies. To support recruitment, implement policies that assist them. Make sure they are not forced to leave the department because of simple issues that could easily have been fixed.
Support Service
Volunteers give their time because they feel a connection to the community. To encourage their continued support, it may help to look at service from a different angle. Rather than focusing on what volunteers can offer the community, ask what you can offer your volunteers to return value to them for their service. For example, are there specific ways you could support their career advancement or facilitate community connections that are important to them?
Prioritize Inclusion
Doing things a certain way because it's "always been done that way" is no longer valid. You need to find new ways to address the needs of the new generation of volunteer firefighters and make them feel valued and appreciated. It's important to recognize that an "old boys club" mentality and a lack of diversity will undermine a department's sense of teamwork and community in the long term.
Incorporate Flexibility
You want passionate and driven volunteers who believe in their shared purpose. To attract them, consider how you can offer greater flexibility so they're able to balance their firefighting duties with the many other demands on their time.
Effectively Manage Your Workforce
Fire departments today are dealing with staff shortages and high turnover. Creating structures that support work-life balance and ensuring that pay and benefits are as attractive as possible is important and can also support volunteer fire department recruitment.
Orion understands these challenges and how vital fire and rescue responders are to public safety. Though the use of our workforce management software, mobile technology and data-driven analytics fire agencies nationwide are working smarter, operating safer and managing costs more effectively.
For more insight regarding the public safety workforce, view our Blogs.